Confluence • 20+ (Milan), organised by Hong Kong Design Centre, is satisfactorily completed in La Triennale di Milano in April 2017. We're glad that this exhibition was finished without a hitch, and we're also honoured to be invited to work in tandem with Confluence • 20+ in Milan to present what we know about Hong Kong design and the taste of Hong Kong on the world stage. From the opening ceremony's menu, to Eataly's exhibition, to utensil design, we've spent a lot of time discussing what "Hong Kong Design" means, as well as issues like what's the best way to represent the uniqueness of Hong Kong. Having spent a lot of effort, we've decided to pick eggette as one of the entry points.
It's been a journey from working on the food design for the opening ceremony, to demonstrating and exhibiting "Creative Fusion" in Eataly, to designing eco-friendly utensils with OOObject. We're happy to have brought a new angle on Hong Kong's food design to our audience.
The eggette originated in a store that sold eggs, or so it is said. Since there were always eggs that were broken or in less than perfect condition, they tried to make good use of them by turning them into little waffle street snacks. It takes too long to make a cake after another, the egg-shaped mould inspired by the waffle mould is the best way to create a mouth-watering fluffy snack within the shortest amount of time. At the same time, the egg-shaped waffle design is not only versatile but full of surprises. Just like Hong Kong design, adding it's own creativity to remould design concepts and thoughts from the West. The ideals for the makeovers are usually based upon versatility and functionality, to look at the basic need as the starting point and utilise the leftover resources, to connect with the world simultaneously and generate diversity. The spirit of Hong Kong design is the spirit of eggette, this is also the essential central concept of our trip in Milan.
Catering Partner for the Opening Ceremony of Confluence • 20+
For this event's food design, the two concepts that we examined were the innovation of Hong Kong cuisine, and the facilitation of cultural exchange between Hong Kong and Italy through the use of distinctive ingredients. During our process of food creation, we made egg tart, dim sum and stir-fry as fundamental concepts to make variations upon the basic concepts with a twist. We tried to add Italy's local elements into both our choices of ingredients and methods of cooking, in hopes of showcasing the inclusiveness and versatility of Hong Kong design and bringing our audience closer to us. By understanding the flavors of Hong Kong, our audience could also make a connection with their own culture.
In the opening ceremony, we designed six snack dishes in total. Three of them were inspired by Hong Kong cuisine, the other three were designed to merge Hong Kong style cuisine with Italian or traditional Western cuisine. At the same time, we also prepared a special drink, so that people from different regions were able to taste and feel the cultural exchange.
Our snacks and drinks menu for the night is as follows. Check out our website and follow our Facebook page for more information and updates:
Har Gow (Shrimp Dumpling) with Rice Puff
Inspired by Har Gow, one of the traditional Cantonese dim sums. Crispy rice puffs and shrimp sashimi, embellished with soy sauce.
Leek and Pig Blood Curd
Taco cracker made from air dried leek, stuffed with lime mascarpone cheese infused with beet root to resemble the red color and flavor of pig blood curd, topped with small rice puffs and pork fuss.
Fried Osmanthus Custard Bun
Inspired by custard buns, creamy custard filling mixed with osmanthus syrup, custard cube covered with rice puffs, deep-fried right before served. Crispy on the outside and fluffy on the inside.
Steak Tartare with Chinese Black Bean Pepper Paste
Seasoned with black bean pepper paste instead of onions for the Steak Tartare, a classic fine dining appetizer. As a mix of HK & Western culture with a taste of surprise.
Angel Hair with Dried Shrimp Roe & Dried Baby Shrimp
A variation of traditional HK style dried shrimp roe stirred noodles, made with angel hair pasta as a replacement for Hong Kong style yellow-alkaline noodles.
Egg Tart Cannoli
Cannoli is a classic Italian dessert from the island of Sicily. We made the tubes out of wonton wrappers, with egg tart custard fillings, topped the dessert with coffee powder, as an expression of Hong Kong's "3:15pm tea time" culture.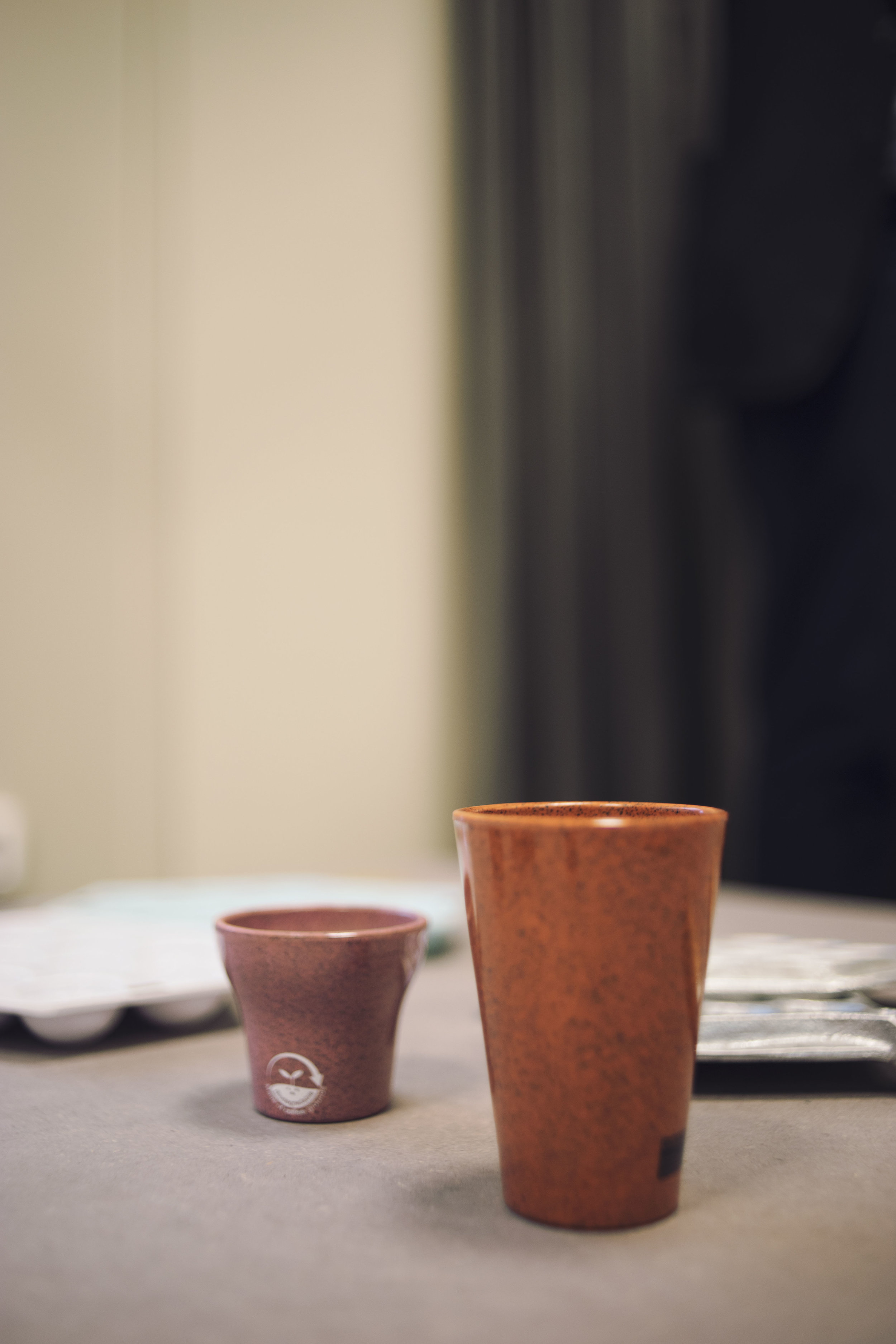 Design an Innovative Taste Journey
Eco-Friendly Utensil Design with OOObject
In food design, it's not simply about the food itself. It's about how do we go beyond the taste of food, to construct a different gastronomical experience through the combination of different plating methods, utensils, and tableware. Among different parts of gastronomy, we believed that the utensil has the largest impact on our gastronomical experience. Because of that, we worked together with local eco-friendly design brand OOObject, to create a new gastronomical experience and impression. We've specially designed 2sets of utensil, in bringing a brand new angle to experience food afresh.
"YuanYang Cup" — a design to experience a fresh taste of Hong Kong's special drink. We had this idea since we found out that a lot of people would have their own golden ratio of coffee and milk tea for this special drink YuanYang, each are unique and personal. In order to enable everyone to find their own personified golden ratio, we've designed a cup with 2 separate compartments, the bigger compartment as the milk tea base, and the smaller one as a coffee cup. With this cup, our audience could make their very own YuanYang. Also, we specially redesigned the recipe of YuanYang, we made it with Espresso instead of Hong Kong style coffee, as in incorporating Italy's local elements into our cups of special drink. On the materials in making the cups, we made the cups out of food residues that were related to our version of YuanYang, to make the milk tea cup with tea dregs and coffee cup with coffee grounds. Through the principles of up-cycling and zero-waste, we hoped our audience would appreciate our ingenuity.
Additionally, we also designed a takeaway plate, "Eggette Plate", that represents the culture of Chinese dining, where dishes are shared communally. The form of the takeaway plate is inspired by Hong Kong's special waffle eggette, there are holes just like the eggette mould on the plate. Not only do we love the look of the eggette, we also love the habit of how people eat it, usually sharing the eggettes with friends. So we've designed a plate that looks like a eggette mould, which allowed us to put different snacks that we've prepared in it. A lot of our audience were starting to talk to one another from picking up the snacks on the plates, sharing the food and happiness with one another. Just as the cup design, we used egg residues to make the plates, to put our major principle of being environmentally friendly into effect.
'Creative Fusion' in Eataly-
Eggette Cooking Demonstration and Hong Kong Food Design Exhibition
Eataly — as the world's largest Italian supermarket, we're very honoured to have done an eggette cooking demonstration in their demonstration kitchen, also curated an exhibition on Hong Kong's food design together.
In our opinion, the spatial limitation in Hong Kong inspired the focus on functional and even multifunctional design. The same idea goes to creating different dishes. Take eggette as an example, its original idea is to make the most use of the broken and unsaleable eggs. It mimics the form of small eggs and waffles, which is the quickest way to cook a cake-like snack. It also makes sharing the snack with friends convenient. That's why in the cooking demonstration we've shared with you our secrets to make the tasty eggettes, giving our audience a first-hand experience of what Hong Kong's traditional food design is like. Apart from the traditional eggette, we've also integrated it with Italian local elements. As the result, Margherita eggette was born. The usual eggette batter was spiced up with Margherita's classic ingredients, which included mozzarella, basil, and parmesan cheese powder. After the eggette is cooked, sprinkle the dried tomato powder on top, which completes the Italian flavour for this Hong Kong style snack. Many Italian participants were intrigued by this familiar yet strange snack, after tasting both crispiness and fluffiness in one little snacks, they were obsessed. We also prepared TK YuanYang as the special drink for our guests, a taste of Espresso with milk tea, it was quite a fun experience to them.
Other than this, we were also showcasing a selection of food related design made by Hong Kong young and new designers, in the same exhibiting area. Such as Nine Dragons Brewery and Plantation, they both embodied a clever twist on tradition in their brands. The first derived their design focus by the beauty of traditional typography, while the other derived theirs by Chinese ink Art. Also, Gary Chang's versatile and functional work "Trick and Treat". We tried to make it easier for our audience to understand how innovative, multi-functional and clever the spirit of Hong Kong Design is through the actual products and works.
The food itself is surely an important element in food design. At the same time, the packaging, branding, utensil placing and more are all equally crucial in how the audience perceives the food. That's why, we brought those designs to the spotlight, shifting our audience's focus onto something more than just the food itself through this exhibition.